Bathroom Remodel in Fort Worth, Dallas, and Arlington, TX
More Than A New Bathtub
''Great job, highly recommend them!!! Excellent office and field staff, communicated very well. Will have our next project with them.'' - David F.
Looking for Experts in Shower and Bathroom Remodeling in Arlington, TX?
If your bathtub is washed-up, but replacing it with a new one would create a mess or expenses that you are not ready for, Bath Fitter is the right choice for you. Bath Fitter offers a quality product without doing a full-scale bathroom remodel. We manufacture and install customized, acrylic bath liners that fit right over your existing tub or shower and are available in several colors and styles.
Quality of Bath Fitter Dallas, Arlington and Fort Worth region liners
Bathroom remodel store in Arlington, TX not only offers bathtub and shower liners, but also various new, efficient fixtures that will turn an old bathroom into a more environmentally friendly room. Many of our faucets and shower heads are designed to use much less water than older models, and replacing inefficient models can reduce the long-term cost of a bathroom remodel as well. Moreover, bathroom renovation by replacing liners will be considerably less wasteful than doing a complete bathroom renovation.
You can check some of the shower heads and faucets on our webpage or visit our Arlington bathroom showroom near Dallas and Fort Worth.

Bathroom remodeling in Arlington, TX in as little as one day
In our fast-paced environment every second counts, therefore Arlington Bath Fitter near Dallas and Fort Worth has a bathroom renovation solution that both will save you time on construction and maintenance. Our one-day bath remodeling in Arlington, TX is the best solution for busy homeowners as our acrylic bathtub and shower liners fit over your existing tub, therefore eliminating the need for excessive demolition work.
On the other hand, if replacing a bathtub entirely your bathroom might be out of commission and it can take up to several weeks if you opt for a custom unit. If you only have one bathroom in the house, you would even have to make alternate bathroom arrangements during construction. Not to mention that usually this process is very messy and during bathtub removal walls and floors can suffer, making the whole process even more expensive.

To get more information about the bathroom remodel in Dallas, Fort Worth and Arlington, visit our showroom or contact one of our experts. After coming to your home and measuring the area, we will design and build you a new tub. Contact us to schedule a free consultation today!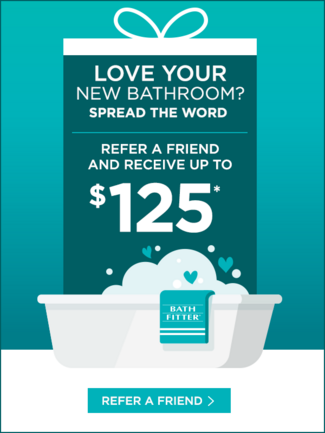 Corporate location owned and operated by National Bath Systems, LLC. Responsible Master Plumbers RMP-14061 & RMP-42441