Bathroom Remodeling in Houston, TX
More Than A New Bathtub
''We had our Shower remolded in 2003 and it looks like new today ! We also had a tub and surrounded done and again no issues , looks great !'' - June T.
Your Expert Choice for Bathroom Remodeling in Houston, TX
Is your old tub dragging down the appearance of your bathroom? For dependable solutions that address your blemished bathtub, turn to Bath Fitter Houston, TX. We manufacture and install customized, acrylic bath liners that fit right over your existing tub or shower. Available in several colors and styles, our custom bathtubs are ideal when you want to update your bathroom.
Bath Fitter Houston team of experts
Bath Fitter has over 35 years of experience, therefore our team consists of members from different fields of expertise and has learned how to turn your idea into a reality. Our in-house bathroom remodeling team has developed a systematic process for assessing your needs so that we could fulfill your vision whilst maintaining the quality of work that we are so proud of. Our aim is to provide a solution that incorporates both aesthetic design and functionality into your new bathroom and as we are able to streamline the entire process, your bathroom remodel can be done in as little as one day.
Overwhelmed by the large array of options and products out there? Let our Bath Fitter Houston team provide a free, in-home consultation and we will walk you through the process, providing guidance and personalized recommendations made by keeping your specific case in mind.
Seamless, Acrylic Custom Bathtubs & Walls
In our fast-paced environment every second count, therefore Bath Fitter in Houston, TX has a bathroom renovation solution that both will save you time on construction and maintenance. Our one-day bathroom renovation in Houston is the best solution for busy homeowners as our acrylic bathtub and shower liners fit over your existing tub, therefore eliminating the need for excessive demolition work. Moreover, our acrylic liners and seamless walls are so easy to clean and maintain that they will continue looking as fresh as new even years after the renovation. Get to know the benefits of our products and services:
• Installation in as Little as One Day
• Factory-Trained Installation Experts
• Seamless Walls & Watertight Fit
• Lifetime Warranty for as long as you own your home
• Highest Quality Customer Service
A Remodeled Bathtub in as Little as One Day!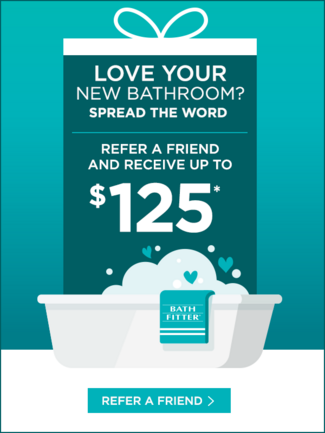 Corporate location owned and operated by National Bath Systems, LLC. Responsible Master Plumbers RMP-14061 & RMP-42441