Bathroom Remodeling in Baton Rouge, LA
More Than A New Bathtub
''Doug and his helper did a wonderful job, they were very professional and careful-repaired/replaced old plumbing & wall support-Love my new tub ! Bathroom looks Great!'' - Joan D.
Bathtub Remodeling with No Demolition and No Mess
Update your old bathtub or shower with the help from the team of experts at Bath Fitter. We provide a no-demolition bathtub remodeling service in Baton Rouge & Lafayette, LA, and the surrounding areas. Whether your current tub is out of fashion, damaged, or does not meet your needs, our factory-trained experts are here to serve you.
Instead of tearing out your old tub, we leave your bathroom intact and install a customized bathtub right over your existing tub. To learn more about our unique bathtub remodeling process, schedule a free consultation with our team. We visit your home to answer all your questions, give you a price estimate, and even provide you with some design assistance.

All Custom Bathtubs Manufactured in North America
Every single one of our custom bathtubs and showers are manufactured in North America. We follow your specifications and use premium-quality materials to ensure we create a tub that you will love for many years to come. Hundreds of features are available for customization, allowing you to design your new bathtub and make it truly your own.

Visit our showroom for design inspiration. Several displays are set up for you to explore, so you can begin looking for the design features you want for your new bathtub.
Why We Are the Right Choice for Remodeled Bathtubs
Local homeowners prefer our remodeled bathtubs and showers because they are beautiful, completely customizable, and they require no demolition. In addition, choosing our team comes with several other benefits, including:

• No Demolition
• Installation Completed in as Little as One Day
• All Installations Performed By Factory-Trained Experts
• Seamless Walls for a Watertight Fit
• Products Backed By a Lifetime Warranty

Contact our showroom in Baton Rouge, Louisiana, to learn more about our bathtub remodeling process. We proudly serve residents throughout the Capital Region, including the Greater Lafayette and Lake Charles areas.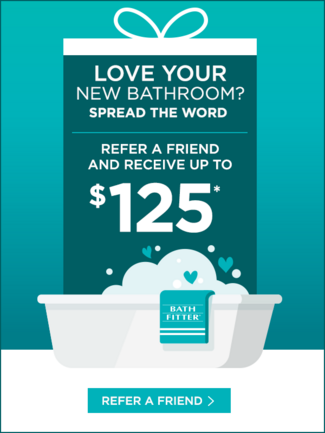 Franchise owned and operated by Southern Bath Solutions LLC.., doing business as Bath Fitter. License # 557512