Bathroom Remodeling in Cheektowaga, NY
More Than A New Bathtub
''Joe A. and Brendon did a great job on our bath fitter install. They were very professional, cleaned up well, and the final product looks amazing!'' - Jenna W.
Bathtub Remodeling Improves Your Bathroom
Revitalize the look and feel of your tub or shower with Bath Fitter. We are your source for bathtub remodeling, shower and tub to shower conversions throughout Buffalo, NY, as well as the surrounding areas. You can count on us to remodel and provide you with a custom bath area. With us you are well on your way to improving the value and look of your bathroom.
Custom Bathtubs - Made to Order and Built to Last
Enjoy long lasting comfort with a Bath Fitter remodeled bathtub. Each bathtub and shower is made from acrylic, which is easy to clean and durable. Our products are specially manufactured in one of our North American-based facilities using measurements gathered during the consultation. The result is a neat and clean unit that fits perfectly over your existing fixtures--no demolition required!

Your new bathtub is built to last. Of course, it can also be custom-made to fit your preferences. All of our custom bathtub projects include a high degree of personalization. Choose the design type, color, and accessories to make a space that is uniquely yours. Best of all, your new bathtub or shower is made of high quality acrylic and installed by dedicated factory-trained experts. Each installation includes a lifetime warranty.
Remodeled Bathtubs from a Trusted Company
Since opening our location in 1999, our company has been dedicated to make you smile every time you see your new bathtub. To that end, we take pride in our dedication to service. Our free, in-home consultations ensure accurate measurements, and installation work can be performed in as little as a day. Brighten up your bathroom with a new custom bathtub or shower.

Contact us to request a free consultation. We proudly serve homeowners throughout the Western New York Area, including Buffalo, Amherst, Williamsville, West Seneca, and Hamburg.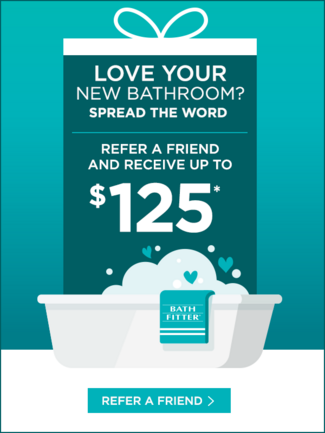 Franchise owned and operated by Ideal Bathroom Solutions LLC., doing business as Bath Fitter.