Bathroom Remodeling in Green Bay, WI
More Than A New Bathtub
''Highly recommend Bath Fitter of GB, came in gave me a quote and within 2 weeks I now have a beautiful tub converted into a huge shower. Brian Adams did an amazing install that took less time then I expected. Great work! I love it! Thank you!'' - Lori H.
Your Expert Choice for Bathtub and Shower Remodeling in Green Bay
If you're not happy with the bathtub in one or more of your bathrooms, look to the experts. At Bath Fitter in Green Bay, WI, we can install a new bathtub or shower and seamless wall right over your old one, and we can do this in as little as one day with no demolition. Our goal will be to help you with a bathtub remodel that transforms your space to your complete satisfaction.
The Bath Fitter Process
We make the remodel process enjoyable by avoiding messes or any disruptive demolition work. In order to ensure a perfect watertight fit of your new tub or shower, we'll customize the production of our premium-quality acrylic products. We have a range of styles, colors, and patterns for you to choose from. We also offer a lifetime warranty on our products for your peace of mind.

If you're not exactly sure what type of new tub or shower you want to implement, our creative people can help you find just the right fit from our options. People choose our tubs because they:

• Are easy to clean
• Look great over time

When you get a new bathtub from one of our professional contractors, you'll get a fresh, clean, and beautiful touch to your bathroom. Our goal is for you to smile every time you see your tub.
An Outstanding Customer Experience
No matter what options you want for your new shower or tub, we'll provide the best possible service. We'll finish your installation and address any questions or concerns you have in a timely manner. Our experienced and certified staff is ready to make the transformations you need to design a perfect space.

Bath Fitter is a locally owned and operated business that's proud to service those in Green Bay and the surrounding areas. We can give you a free consultation before requiring any type of commitment. Our experts will make sure to explain the function of your tub and accessories before leaving your premises. Call us now to speak with a professional about your bathtub remodel options.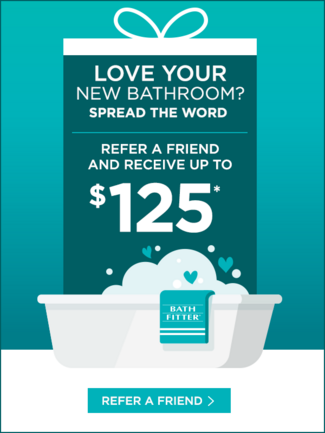 Franchise owned and operated by Ideal Bathroom Solutions LLC., doing business as Bath Fitter.